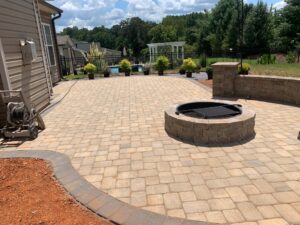 A.B. Seed is one of the largest distributors of Belgard Hardscape materials in the Piedmont Triad.
Our knowledgeable sales team specializes in providing excellent customer service not only to homeowners, but to landscape contractors and designers.  A.B. Seed has dozens of Belgard Hardscape styles and textures to choose from.
Thinking about creating a firepit? Stop by and we can supply you with all of the necessary items!
Contact Mark at 336-393-0214 for more info.

We understand that selecting an installer can be difficult and time consuming. Let A.B. Seed and their teams of licensed contractors assist you!
Chip Weavil, Inc. 336-345-2602

Davidson Landscape 336-362-3877

Dennis Mullane 336-375-5115 

Garrison Landscaping 336-404-4343

Green Spirit Landscaping 336-454-1188

Hicks Landscaping 336-345-6363

Cruz Hardscape 336-268-0367

Santos Landscaping & Tree service                        336-254-8155

J & J Quality Landscape 336-491-2559

 

Land Plus 336-462-7104 

PDC Hardscapes 336-299-0057

Pond Professors, Inc. 336-510-0884

Pro Turf 336-382-0372

R&C Paving 336-327-7624

S & S Brick Paving 336-992-3710

Sheltons Landscape & Bobcat 336-382-8532

Southern Sodgrass 336-996-4763

Stuart Nursery 336-977-7024